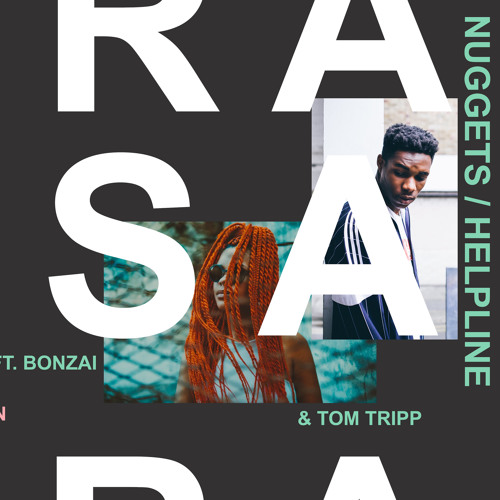 If you've taken in my twitter feed at all in the last few months, no doubt you've seen me drool over
Mura Masa
's track with
Tom Tripp
, "
Helpline
." Of course the first time we heard it was during his Coachella set, listen and watch
here
. The whole 40 minute set is absolutely overflowing with energy, in large part to it playing host to a number of new tracks, including "
Nuggets
" the A-side of "
Helpline
" pictured above.
It was that explosion of freeing, funky fun energy that initially drew me to "
Helpline
." As soon as I heard it I thought, man this is some kind of super cool track. Right from the get go the drum beat brings you in, before the bassline begs you shake your tail feather. Then comes those incredibly intoxicating keys. All this paired underneath
Tom Tripp
's feverish vocals, speaking to the most human needs.
There's no questioning the track's construction: the sound design, progression and lyrical themes are as fun as can be, but for me there's no comparing the studio version with the live version. The key to "
Helpline
" is its raw, organic and human nature, but that gets lost in the almost stagnant studio mix. At times I have trouble making out the lyrics, and for some reason the mixing of elements seems muddy. Of course this is in comparison to the stripped back live version, which is more easily mixed.
Now I don't mean for this to come across as me knocking
Mura Masa
or anyone else involved on "
Helpline
," I just think it's better suited to a live performance. There are plenty of examples of this elsewhere, of which
Haim
is perhaps the best. I first came across them when they played
Jimmy Kimmel Live!
(
here
). I absolutely loved their live performance (in part because of Este's Bass Face), but when I listened to the album cuts I felt a little underwhelmed. Of course live and studio are not going to be exactly the same, live allows for more experimentation and playfulness whereas studio recordings serve a different purpose. Regardless, the vast disparity can be frustrating to some. I guess what I'm trying to say is that I still love "
Helpline
" and consider it one of my favourite productions of the year, I just see the live version as the more true to itself depiction. It's without a doubt the one track I'm most excited to see at
WayHome
. If you're like me, and need to have that live version on repeat, I've uploaded it for download via mediafire
here
.
FOLLOW MURA MASA: FACEBOOK SOUNDCLOUD TWITTER
FOLLOW TOM TRIPP: FACEBOOK SOUNDCLOUD TWITTER