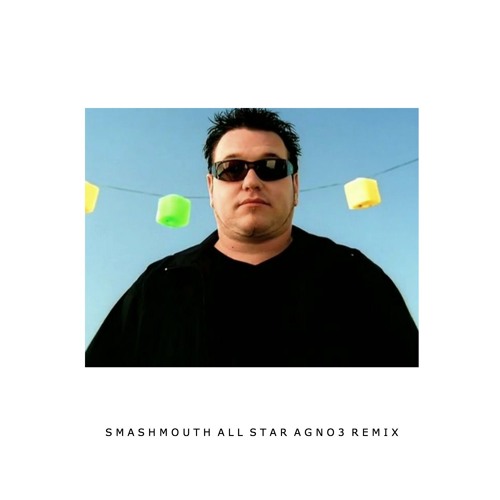 In the past three weeks alone, friend of the show,
AGNO3
has released 3 new productions. Each being more incredible than the next, and as seems to be the case with
AGNO3
, they aren't just technically terrifying, they're thought-provoking as well. The first, "
Perspective
" features the voice of Carl Sagan, arguably the greatest mind of the past generation. It's an incredibly poignant production, that leaves you like the human race of which Sagan speaks, floating in the vastness of our infinite reality.
Then came "
Mushrooms
," a more typical
AGNO3
track, grand in form yet irksome in its delivery. The sound design matches the titular potent potable, sending alien shivers down your spine while you lie in a growing lather of lunacy. While these two are madness inducing mindf*cks, the next is even moreso.
Enter Steve Harwell and his now more meme than music, Smash Mouth and that track from
Shrek
, "
All Star
." But hold on, this is no meme, this is actually modern music (or post modern if you prefer) at its best.
AGNO3
, a self professed Smash Mouth fan, has taken the familiar and made it foreign again. Rife with tech based clicks and beeps amidst demonic bass and utterly evil vocal tuning, it feels to me as if
AGNO3
's version of "
All Star
" is an alarm bell against the viciousness of technology. What was once a classic and beloved pop track has become no less than a lark, a mere meme as a result of the relentless world we live in. Maybe its coincidence but
AGNO3
's first original of 2017 was entitled "
Saviour
" and in my eyes/ears that just what he's done with this and his
other remixes
this year. Hear the all new version of "
All Star
" on
Radio Humber
tonight, in perhaps the heaviest hour of
Bump In The Hump
yet. There's new
Kayliox
,
CastNowski
,
Michael Sparks
,
Dropwizz
and another installment from
CRaymak
's First Of The Month series. Plus another new single from
Lunice
's forthcoming debut album
CCCLX
. Finally the hour comes to a close with brand new
Bensley
. All the action happens live from 6-7 PM EDT,
here
.
FOLLOW AGNO3: FACEBOOK SOUNDCLOUD TWITTER